RON is conpany manage online shop mainly.
What is more, send web media, imports and plans miscellaneous goods and is an agency for sports equipment.
We will continue to challenge new and interesting things regardless of business field, and make every effort to enrich the lives of our customers.
| | |
| --- | --- |
| Company Name | RON corporation |
| CEO | Jun Nakamura |
| General Counsel | Kiyotake Yokohari |
| Location | 1-3-4, Simomae, Toda-shi, Saitama-kenn, 335-0016, Japan |
| Phone | +81-48-447-764 |
| Fax | +81-48-447-7643 |
| Established | July, 2004 |
| Capital | 50.0 million yen |
map
office tour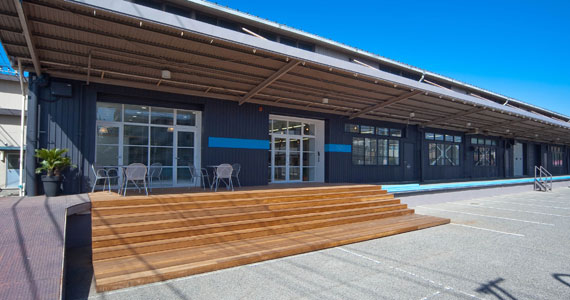 Renovate 40 years old logistics warehouse with keeping its good old feelings.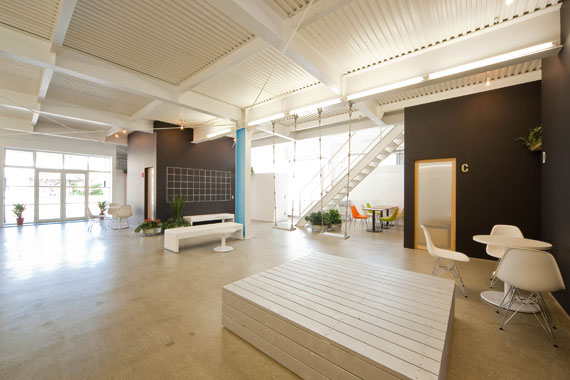 Main entrance is such a roomy space, has a wingspan of more than 3m.
In the center of the photo, wow! we have also installed two swings. (I've never seen a company with a swings in others.)
(* It is said that swing helps you to come up with various ideas, with reducing gravity by floating the foot from the ground.)
This is the place can be used as communication space, lunch space, and also the place helps generating new ideas for many employees.
By the way, all the black walls are blackboards, so you can always write your ideas without a notepad.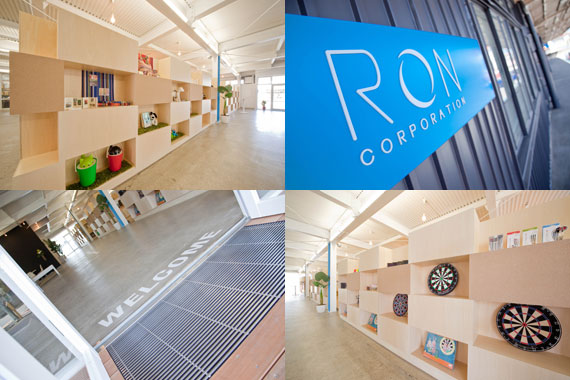 Looking at the office from the main entrance, the exhibition booth for our products is on the right side.
Various products such as darts, men's cosmetics, and pet supplies are on display.
On the left side are swings, benches and tables for resting.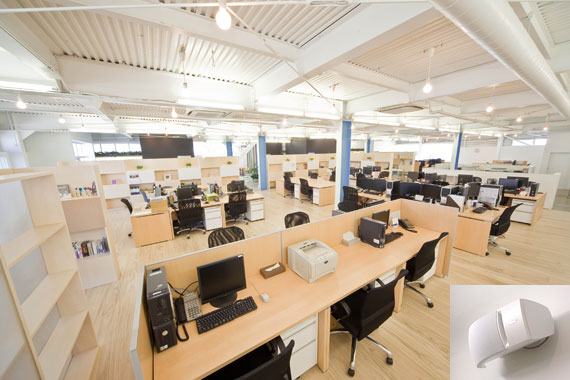 The office space is the place that makes you so relaxed, has white walls and wooden floors with using a large amount of natural wood.
We can provide more comfortable working environment, by securing a space for each person.
Also, speakers are on the wall, and BGM is played all day long.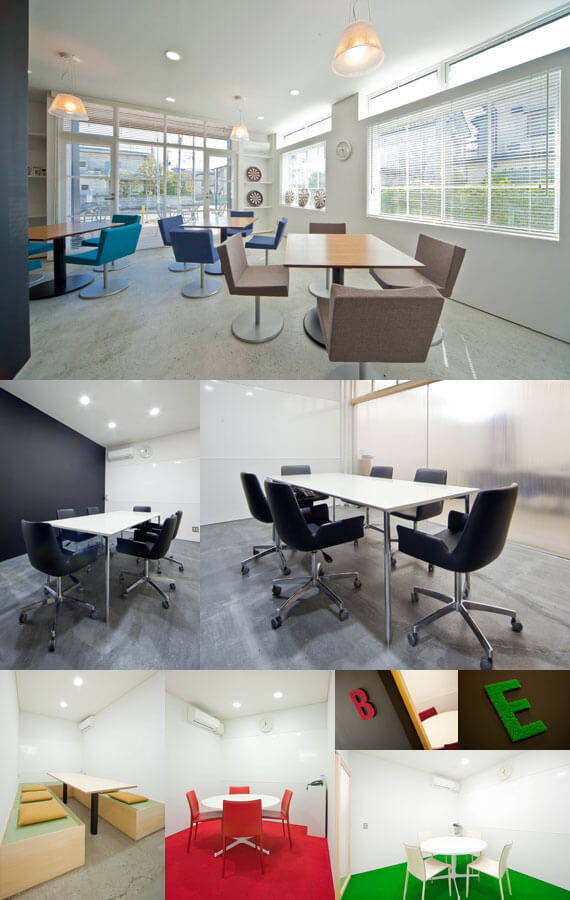 There are 5 meeting spaces, "red", "green", "black", "Japanese-style room", and a large meeting room which can also be used as a communication space.
Those can be used in various scenes. For example, for in-house meetings and customer support.
Whiteboards are installed in all meeting rooms so that you can write down reports and future sales strategies.
Customers who come several times may change the location each time.
Currently, we are also thinking about having a meeting on the wooden deck in front of the entrance.

Seminar room that can accommodate 20 people at a time.
It is used in various scenes such as company-wide meetings and OJT.
Thank you for watching until the end.
It is venture like us that the capable people can display their abilities !!
Would you like to develop and provide services and products that will please many customers with us ??
We are ready to welcome you. Waiting for your application.